Awesome time!
Awesome time! This was my 2nd trip to Rawhide Guide Service. I had a great time! The hunting was excellent. My guide was extremely knowledgeable of the area we hunted. Every one was helpful and nice! The food was great. Thank you for a wonderful trip. Hope to see you soon! Jon Dunn
Jon Dunn
Great hunt with Roy
Great hunt with Roy and his guides. Very good week with a 6 x 6 bull and 4 x 4 muley. Troy was excellent and very knowledgeable. Great archery week but moreover a great bunch of guys.
Simon Jung
Great Place, Great Bulls, Awesome Food!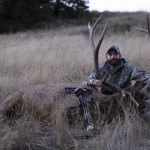 I've been to Rawhide Guide Service on two archery hunts and had opportunities on both hunts. Great place, great bulls, and awesome food!
Tyler Hock
The Hunting Was A Pleasure
My bear hunt with Rawhide Guide Service was definitely a memorable experience! We saw several bears and Don worked very hard to provide me with the best shot possible. The Rawhide Team are all very professional and hunting with them was sure a pleasure. Good fellowship & Great food – Thanks Don, Shorty, Kevin & all the rest of the crew for a great hunt.
Vicki M.
Rawhide Was A Great Experience!
This was my first hunt with Rawhide and it was a GREAT EXPERIENCE! We had good accommodations and the food was excellent. The last day of my hunt I got this nice 6-ft. Black Bear with a B & C score of 21 5/8″ skull. Great Job Don. I hope to hunt with Rawhide again real soon.
M. Kaltreider
GREAT HUNT!!
My guide (Grizz) is great at what he does. He knows the animals and he knows where to put you to give you the best chance to score. He goes above and beyond to help you. Even though my hit was less then perfect on my Elk, he not only found my Elk, he saved the meat for me. Great Hunt!!!!
Gary L. Sr.
I Will Hunt With Rawhide Again!
I had an Excellent Hunt! My guide Troy was GREAT! I filled 3 tags: Elk, Deer and Antelope. The staff at camp did an excellent job on game retrieval. The kitchen and the on-site butcher shop crews were great too. All around, a good experience and I would recommend Rawhide Guide Service to anyone. I will be back to hunt with RAWHIDE again!
E. Sauder
Great & Successful Hunt!
The hunt was wonderful. Don, our outfitter exceeded our expectations; the way he explained how to hunt antelope and how to judge horn size before shooting our animals. I was really pleased with the entire hunt. A GREAT & SUCCESSFUL HUNT!!! 86 B & C Antelope
C. Petroff
Outstanding – Much More Than Expected!
Not only is there plenty of game but, there are many quality animals. The guides understand bow hunters needs and know how to make it successful. Outstanding hunt. Much more than I expected.
Eric P.